 The best care is easy

Because we make it Comfortable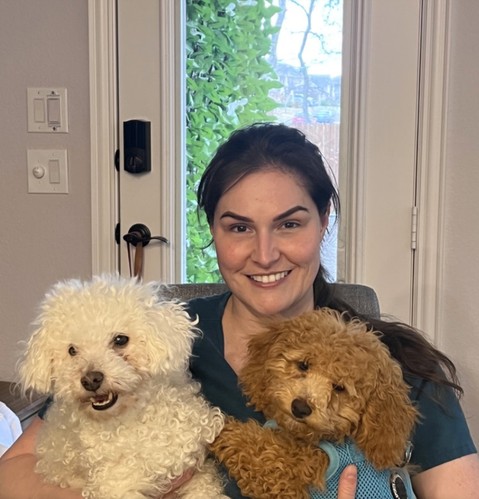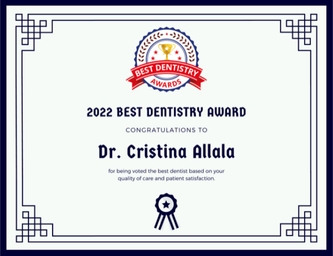 Meet Dr Allala
Hablo Espanol!
She graduated from Texas A&M Baylor College of Dentistry in 2016 and hasn't stopped learning since. She enjoys keeping up to date on the latest dental technology and techniques. Dr.A also loves spending time with her adorable pets when she's not at work and loves to talk about anything puppy related! Understanding and solving patient's dental concerns are her priority. Opening her own practice has been a goal of hers and she's finally open and ready to meet you!
We are Social! @theserenitydentist
Services
Most dental procedures under one roof!
Serenity Advanced Dentistry is the most advanced dental office I have ever been. You are treated like family. Dr A is an amazing dentist. The ladies at the front and dental assistant must love their job, you can tell by how good you are treated from making your appointment to the end of your treatment.
Clint B.
First time patient. I had a great experience. Friendly staff, clean offices and the equipment was cutting edge. The dental assistant was patient with me and explained the process. The dentist was warm and explained my current dental situation. I look forward to future visits and won't hesitate to recommend to family and friends.
Rocky M.
I am new to the area and am happy that I found a very clean and new dental office. I really like that you have your own enclosed treatment space so, discussions and treatments can not be overheard. Very professional staff. They are very thorough and answer all questions and concerns. Would highly recommend!
Tracy Z.
Dr. A and her staff Jazmin and Nicole are phenomenal!! They made me feel welcome! Very courteous. They made sure I was comfortable at all times during my procedure! Painless!! I will refer everyone to her!
Laura R.
The professionalism and friendliness of the whole team is absolutely amazing! I've been a patient of Dr.Allala for a few years now and couldn't be happier with the results and service every time I visit. The staff are very welcoming and courteous and truly make you feel like family. Highly recommend, you will not be disappointed!
Adam
Dr Allala and staff are very professional and detailed oriented on every procedure they apply. They are also bilingual which was very hopeful for me to understand what needs to be done. I don't have insurance but I choose Serenity Advanced Dentistry because I only trust Dr Allala.
Melissa B.
I absolutely love Dr. Allala, my family and I followed her from a previous office. Spanish speaking. I'm excited for her, the office is beautiful and the technology she has incorporated is amazing, dental crowns!
Maria S.
This was the best experience I have ever had going to see the dentist! Dr. Allala is so gentle, she explained everything every step of the way and was sure to answer any questions I had! I'm looking forward to being a long time patient. Thank you Dr. Allala and staff for taking the fear away.
Chincia V.
I had a good experience with the staff especially since I have not been to the Dentist in a long time. Every one was very helpful, thoughtful, knowledgeable and show me great compassion and courtesy. It was a pleasant experience and atmosphere.
Stella T.
Photos from our practice
Loading...